The Valentine's Day Campaign at Cystore will begin on February 1st at 3:00 PM (JST). If you haven't done this before, the idea is that you're sending a virtual gift to a character or summon of your choice. In exchange, you'll receive something back from them, in the form of an art print. You must register on their page to order – we suggest you do so before it opens. Here's a guide on how to register! A couple notes:
Ordering requires a Japanese mailing address, so have a friend in Japan or proxy service ready.
You must register an account with the Cystore page first – registration is unique to this event, so you have to do it even if you've registered for previous events!
If you've ordered previous things like Valentine's Day cards, then the process is almost identical.
More detailed instructions after the break.
Registration at Cystore
Valentine's Day 2022 Campaign Site
Scroll down to the bottom and click on the pink button to begin the registration process.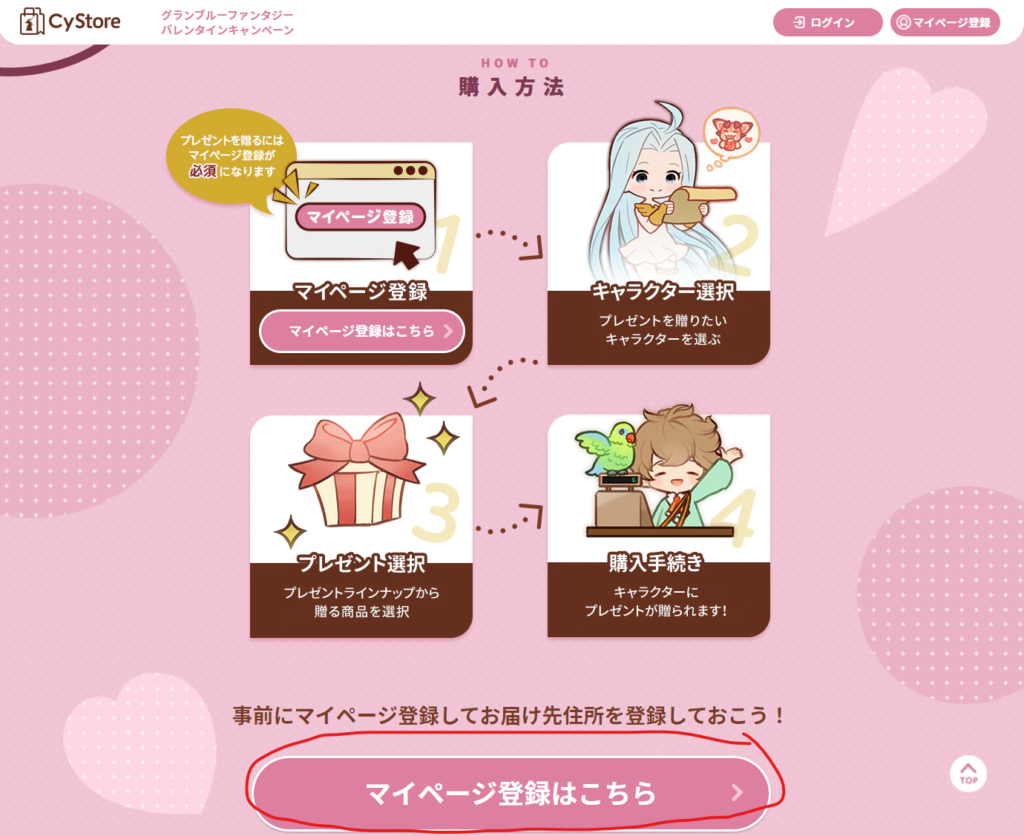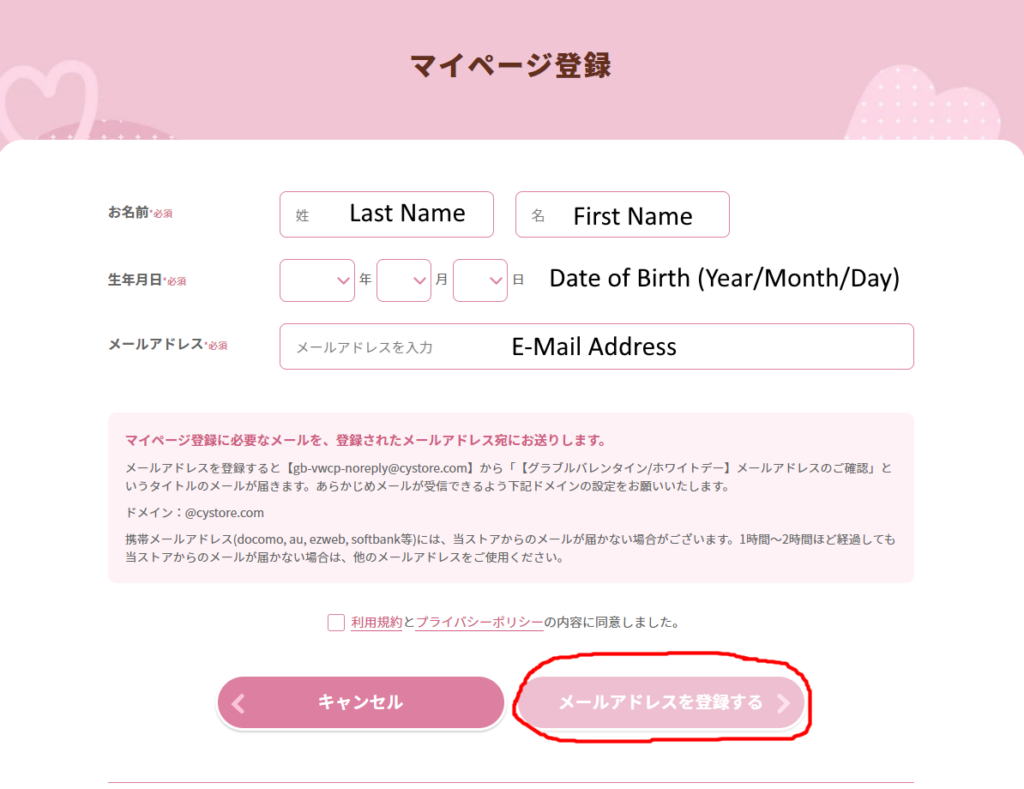 Click on OK at the pop-up window that appears, it is just confirming that your email address is correct. You will receive a registration email from
gb-vwcp-noreply@cystore.com. Click on the link in that email, and a new page will open up where you can set your password. Enter your password twice and click on the pink button.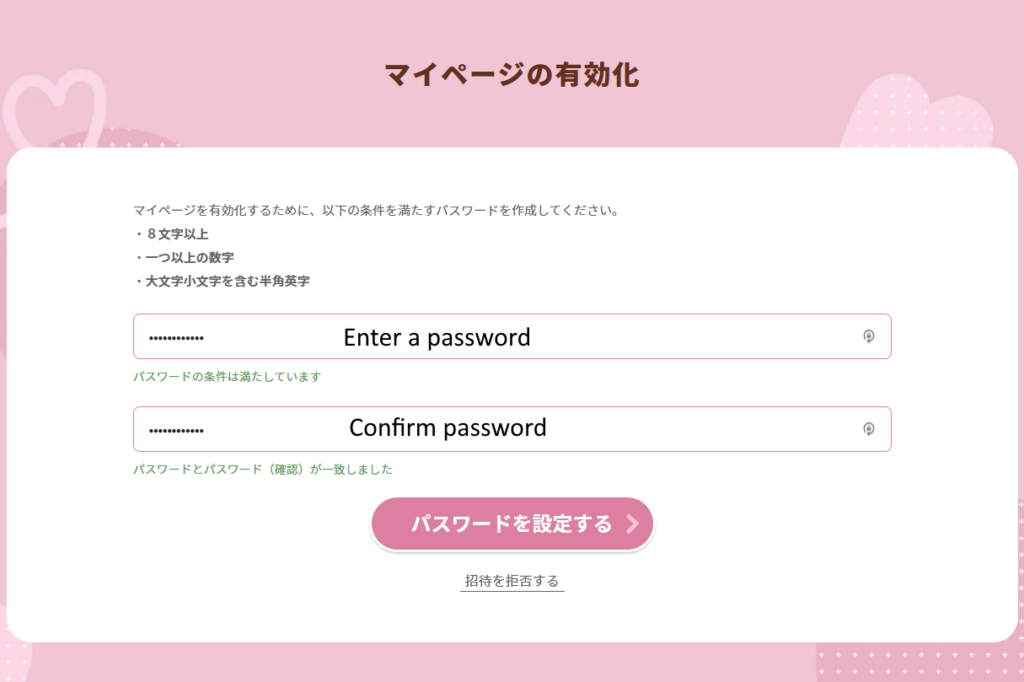 Another pop-up will appear confirming your password. Click on OK to continue.
You will now enter your shipping information. Click on the pink button once everything is filled out.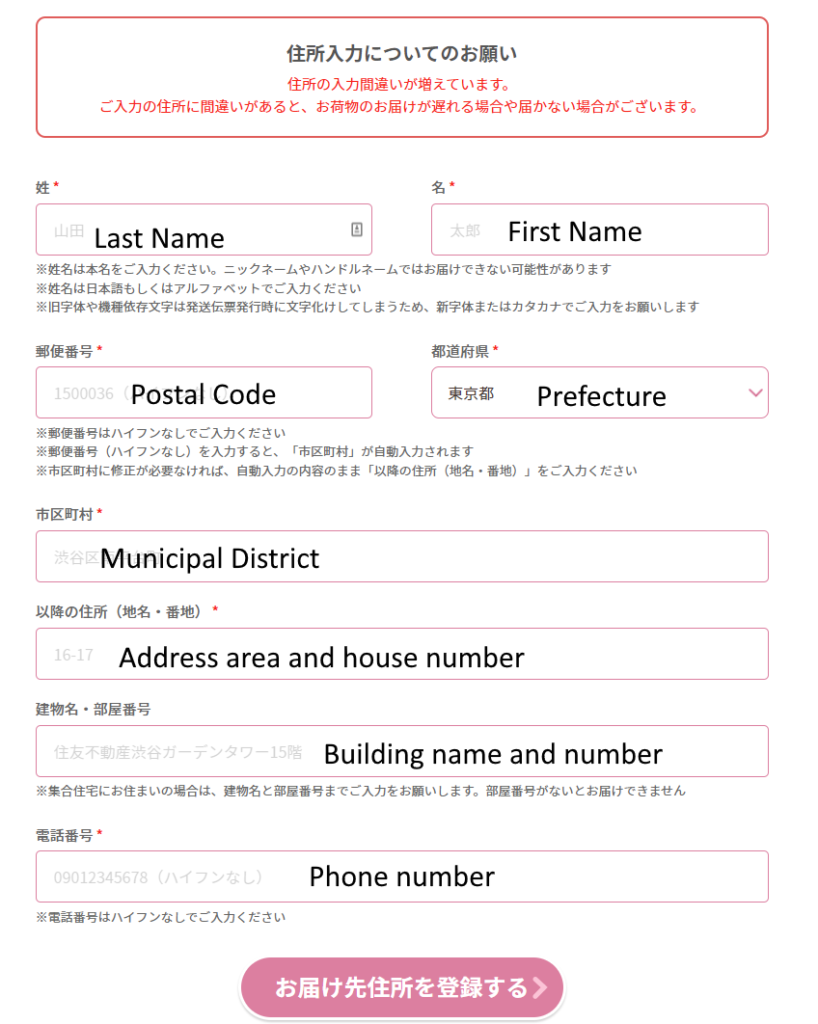 You will then be taken to a page that shows your information. You are now registered, and ready to order!
Back on the main page, scroll down to where you will enter the name of the character you wish to send a Valentine to. You can either type their name in the white search box or pick from a list by clicking on the pink button underneath it. A translation of all the names plus direct links to the product page can be found here:

https://docs.google.com/spreadsheets/d/19V62_N4Luz2hwJ0eajAl6fsGXAsAr_g0Y7hflW_REmI/edit?usp=sharing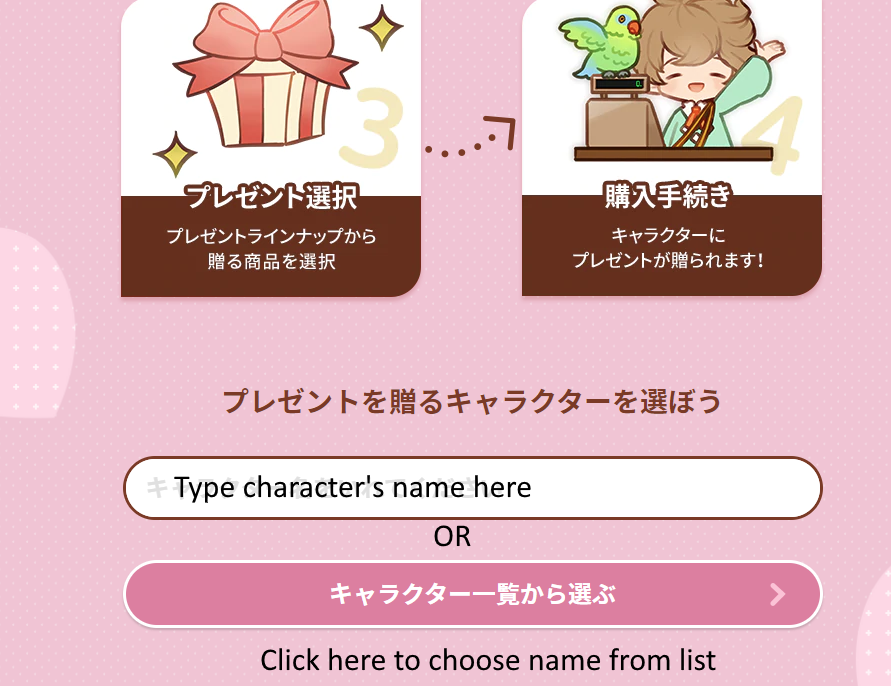 Once you've chosen a character, you will pick what type of gift you wish to give them. From top to bottom the items are:

Crunchy Chocolate (Red)
Crunchy Chocolate (Blue)
Crunchy Chocolate (Brown)
Crunchy Chocolate (Green)
Crunchy Chocolate (Yellow)
Crunchy Chocolate (Purple)
Heart Shaped Shrimp Rice Crackers
Petite Gaufres
Heart-shaped Chocolates
Crepe Coloree
Chocolate Bon-Bons

Pick the quantity you want to send them, then click on the pink button to add it to your cart.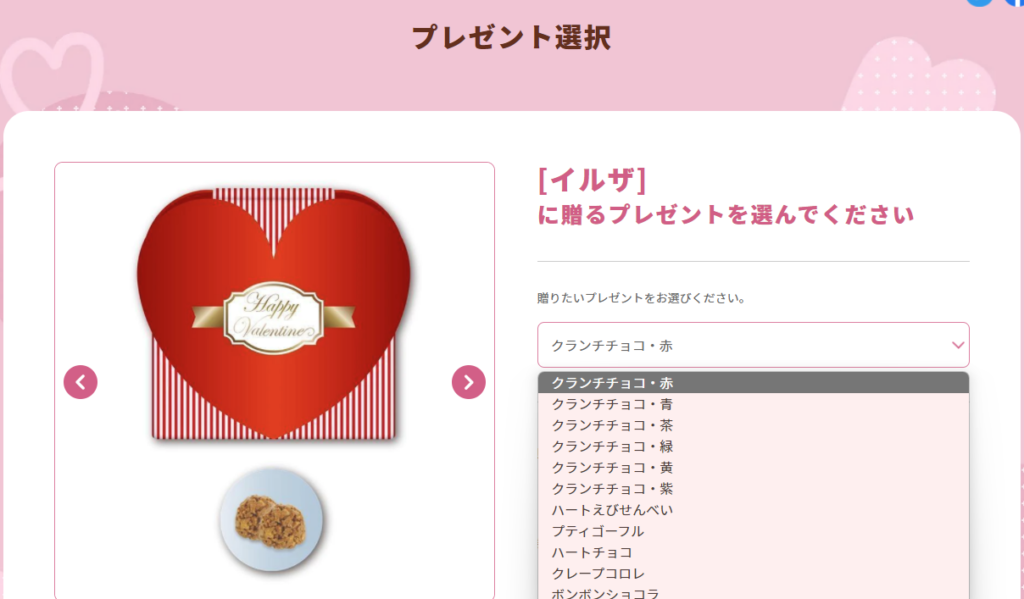 The next page will show the item added to your cart. If you are done with your order, checkmark the box at the bottom and click on the pink button to proceed to checkout. When you click on the pink button, a pop-up will come up, warning you that each order you make will have a shipping charge even if they're to the same address, and recommends putting everything into a single order. Checkmark the box and click on the pink button to continue.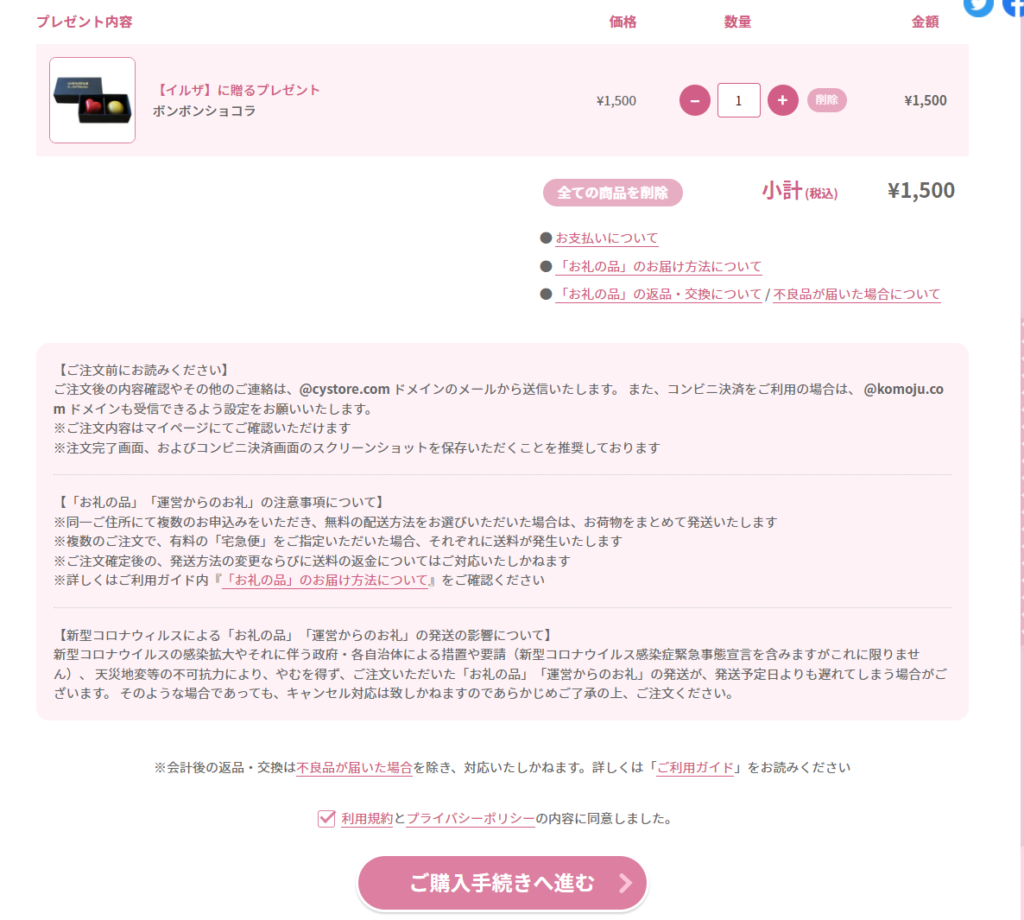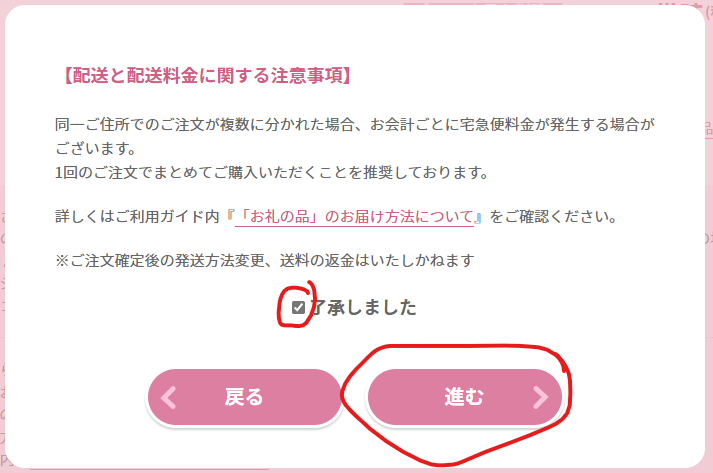 In the next page, choose your payment method (Amazon Pay / PayPal), then pick the address you entered previously from the dropdown menu. Click on the blue button at the bottom to complete your order.