We now have full details on the adjustments to characters expected on June 9th, so view the rest after the break.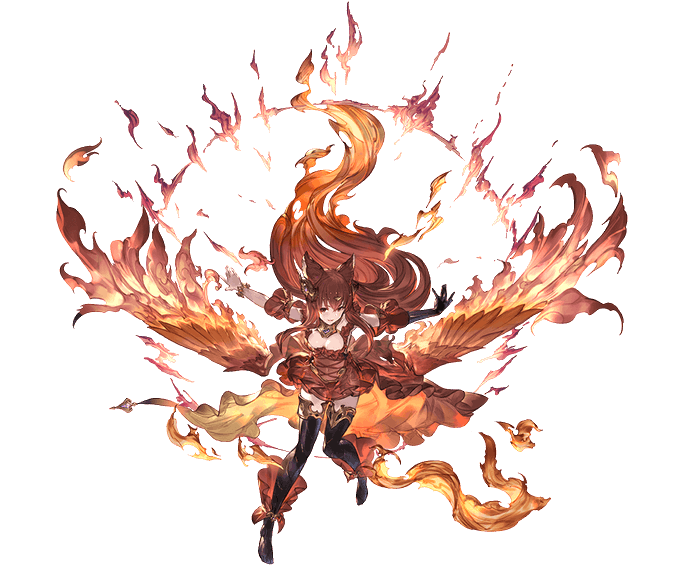 Anthuria (Fire SSR)
Gains Harp proficiency (also applies to Summer version).
CA: 10% dodge rate replaced by "Cast Dance of Delirium" (skill 1).
Dance of Delirium: Dodge up/Hostility up duration up to 3 turns (was 2), gains Other Self (1x) effect.
Alluring Step: Effect changed. Cooldown changed to 1 turn (0 turns at +).
In Quick Tap: switch to Silent Tap (On dodge, heal all allies, stackable def up) In Silent Tap: switch to Quick Tap (extend all allies' Hype duration by 1 on dodge/stackable attack up).
Captivation: effect changed to self CA Standby, Uplift/Shield/Hype to all allies.
Feet on Fire support skill: removed, and replaced with Quick Tap and Silent Tap.
Quick Tap: While in Quick Tap, extend all allies' Hype duration by 1 on dodge/stackable attack up
Silent Tap: While in Silent Tap, heal all allies, stackable def up on dodge.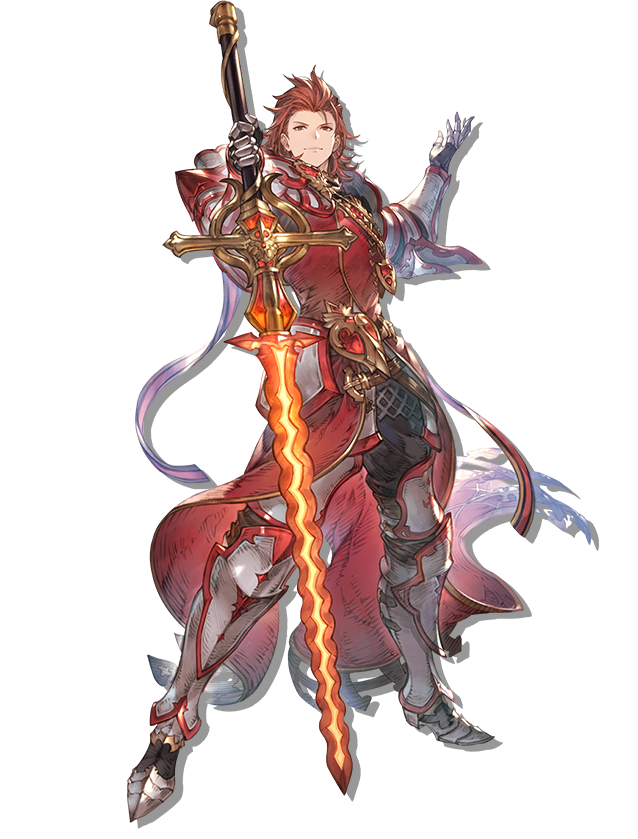 Percival (Fire SSR)
Lohenwolf++: Also grants Percival 20% CA meter.
Zerreissen: Grants Percival a fire Crest. Healing from Zerreissen++ increased.
X-Seele: Gains Delay on cast.
Traueumerei+: CD to 6 turns. Also adds new buffs based on Percival's fire Crests:
1: Debuff success up
2: DA up
3: TA up
4: Crit up
5: Keen
Kingly Aura: effect changed to Fire Atk up based on # of crests.
Ideal Vassals: adjusted to provide the Atk up earlier (currently does not provide atk up if Percival is the only party member standing).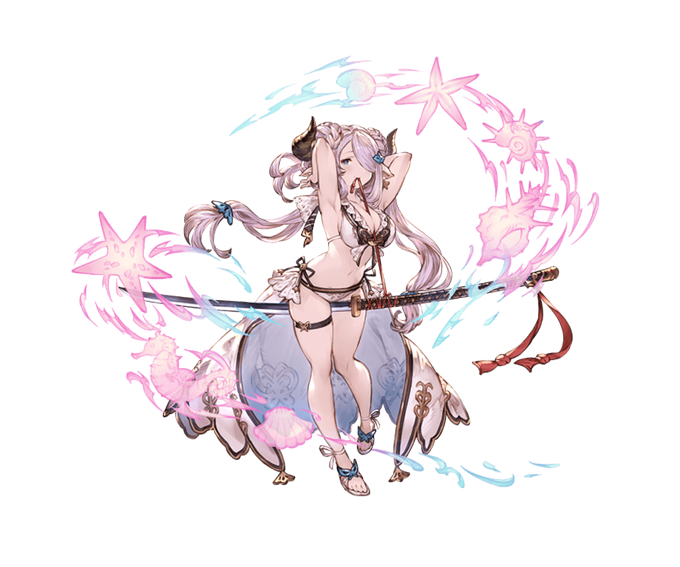 Narmaya (Summer Limited Water SSR)
CA: Now grants Other Self (1x).
Physical Endurance: DA/TA up increased.
Mental Focus: No longer requires Break. Attack Greatly Increased percentage reduced since it no longer needs Break. CD from 7 turns to 6.
Fanciful Flutter support skill: now maxes at 5 stacks instead of 10. Dodge up per stack increased.
Also gains new effect: when Narmaya dodges, she deals Water damage and casts a Delay.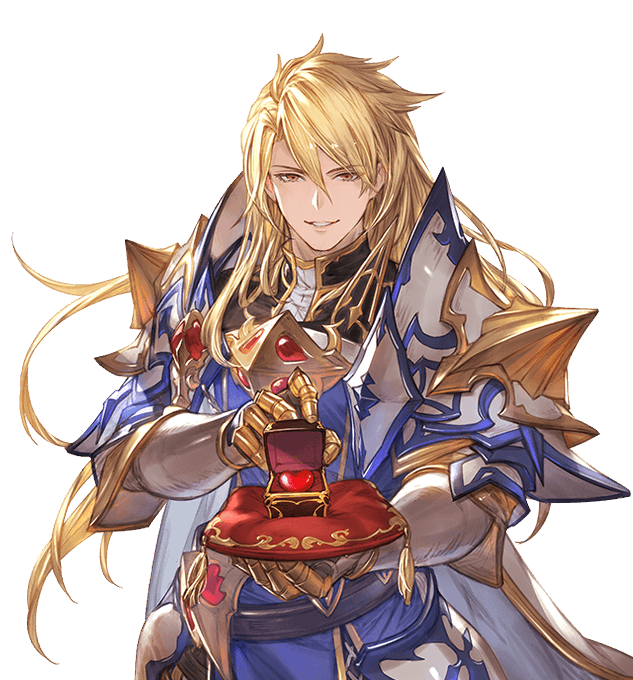 Aglovale (Water SSR)
Zerreissen: Grants Aglvoale a water Crest.
Eiszapfen: Duration of Coldcage now set at 2 turns if it lands successfully.
Dynast's Men: Effect changed to Water Atk Up based on # of Crests.
Absolute Zero: support skill now active from back line.
Schneetreiben: Additional effects based on number of Water Crests. CD changed from 8 turns to 6 turns.
1: Def up
2: Revitalize
3: Veil
4: Fire damage cut
5: Dispel Guard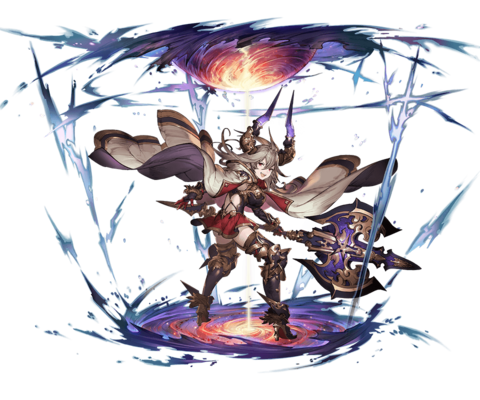 Threo (Earth SSR)
Vorpal Rage: Effect changed. Now always provides Jammed.
Axe mode: Drain (3333 for 1 turn)
Sword mode: Supplemental damage to one-foe attacks (30%/1 turn). CD to 6 turns.
Berserk Forge: Effect changed.
Axe mode: Counter on Dodge or Damage/3x
Sword mode: Attack without taking a turn.
Berserk Forge+ CD from 7 turns to 6 turns (previously required ++)
Berserk Forge++: Effect upgrades to "Triple attack this turn"
Axe mode: Hostility up, Counter on dodge/damage 3x
Sword mode: 30% Earth chaser for 1 turn, attack without taking a turn.
Supernatural support skill: Changed to "Starts combat with Lethal Attack Dodged (3x)". At level 90, upgrades to include "The 3rd attack of a triple attack gains up to 300,000 supplemental damage"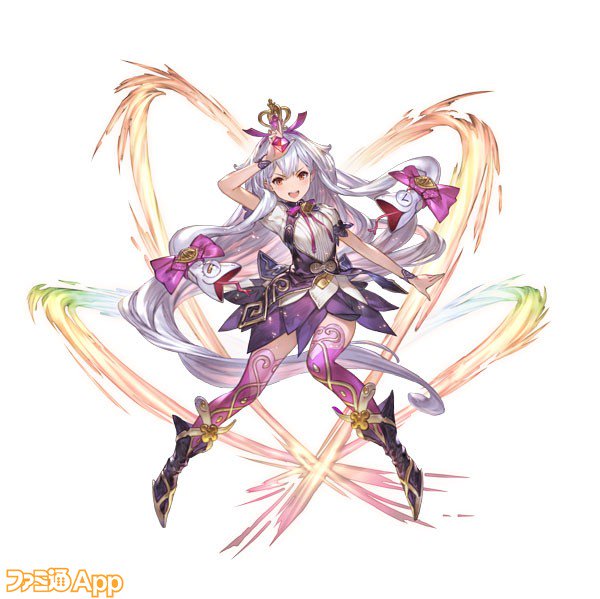 Medusa (Valentine Limited Earth SSR)
CA: Now casts Magical Medusiana instead of inflicting Scared Stiff.
Magical Medusiana: Effect changed. Inflicts Poisoned, Gains 1 stack (max 7). At 7 stacks, casts 3 times. CD changed to 6 (5 at +)
Support skill Sweet Enchantment: Effect changed to CA specs up based on stacks (see: Magical Medusiana)
Support skill Supreme Serpent Eye: name changed. Effect changed to "When the enemy activates a special attack, casts Magical Medusiana 1x per turn".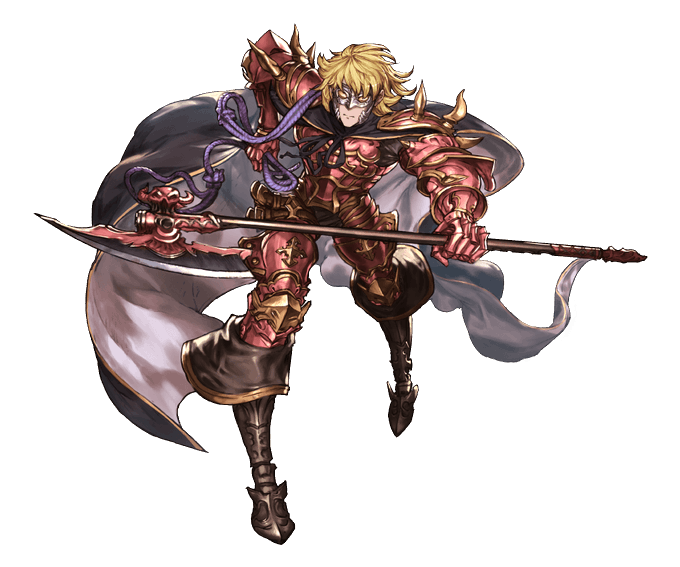 Gawain (Wind SSR)
Gains Spear specialty.
5* CA: Shield amount increased to 1500 (was 500)
Fracture: Damage increased. At Fracture++, applies Earth Attack Down, damage and damage cap increased. Atk Down success rate increased.
Rebellion: Effect changed. Deals Wind damage, Jammed effect to self. Consumes 30% of max HP. CD from 5 turns to 7 turns (6 turns at +)
Noblesse Oblige: Also adds 100% Debuff Resistance to allies.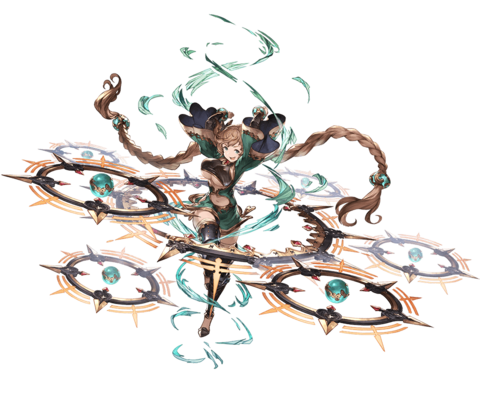 Carmelina (Wind SSR)
War Hoop: Def down effect and success rate increased. DA/TA Down success rate increased.
All Sensation: Effect changed to "Deals Wind damage to all foes. Applies Debuff Resist Down (stackable)".
Universal Star: Effect changed to "Attack specs up while Mirror Image is active."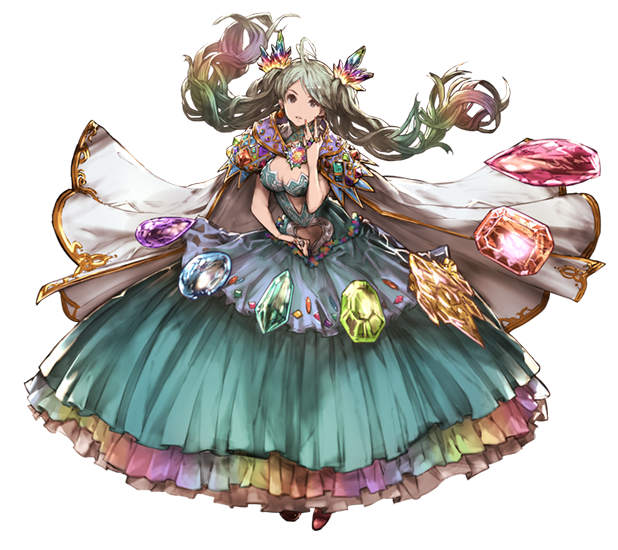 De La Fille (Light SSR)
Jewel Mirror: Effect changed to "Gain a Shield based equal to 70% of max HP (max 4000), gain light Chaser." Chaser lasts until DLF takes damage. Chaser strength increased (was 20%, no new number listed)
Glorious Flame: Damage up. Light Def Down effect increased. Dark Attack Down added.
Regeneration: Now Heals and Revitalizes all allies. CD changed to 7 turns. Revitalize duration from 5 turns to 3.
Glimmering Barrier: Effect changed to "Debuff resistance up while Shielded"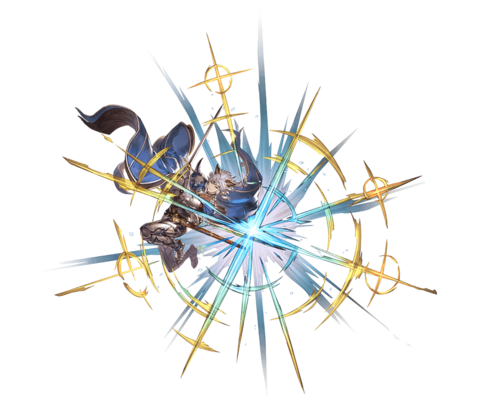 Seruel (Light SSR)
Quick Raid: Name changed to Courtly Blade. Deals Light damage, applies Attack Down.
At Courtly Blade++, adds Dark Atk Down. Damage and Damage Cap increased, Atk Down debuff success up. CD to 7 turns (6 at +)
Royal Curtain: Effect changed to Veil to all allies/Seruel Triple Attacks this turn. CD from 8 turns to 9 turns (Back down to 8 turns at +)
At Royal Curtain++, the guaranteed TA buff increases to 2 turns.
First Prince of Irestill: Effect changed to "all allies' DA/TA up while not debuffed."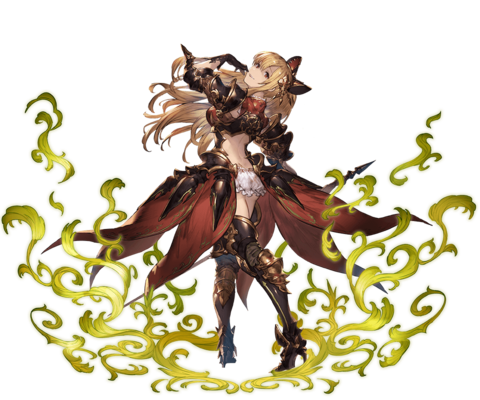 Vira (Dark SSR)
Affection Abyss (CA during Luminiera Merge): Now also reduces all of Vira's skill cooldowns by 1.
Layer Rise II: Effect changed to Atk down (stacking)/Def down (stacking) to foe and Atk up/Def up (stacking) to self. CD from 7 turns to 5 (4 at +)
Affection Oath+: Now inflicts Dark Atk/Def down and Light Atk/Def Down.
Heal to self increased to 3000. CD from 9 turns to 6.
Blade of Light support skill: Luminiera Merge mode Atk up, Def up, DA up increased.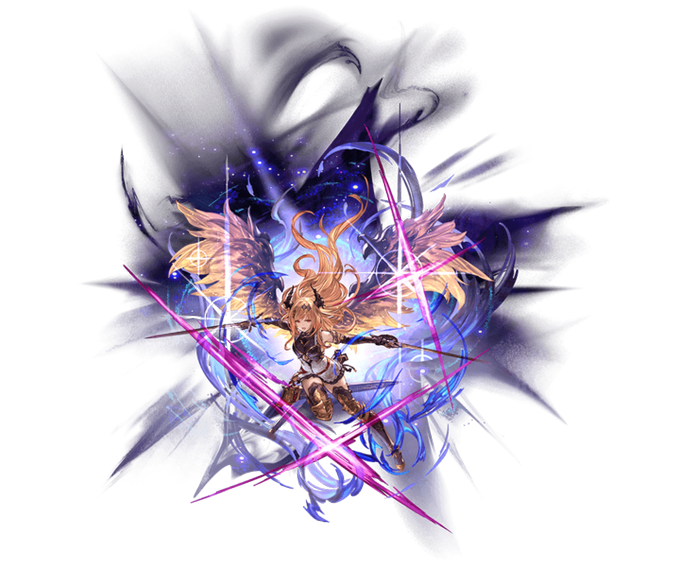 Olivia (Dark SSR)
Sterling Sea: Damage, Damage Cap increased. Multiattack Down debuff effect increased.
Peccatum Mortale: Now affects all foes. Damage and Damage Cap increased. CD from 9 turns to 7 (6 at +)
Nevermore: Effect changed. Applies Shield to self. Veil to self. Gain Dark Angel's Wings buff (buff ends after taking damage 3x). CD from 7 turns to 8 turns.
During buff: TA up, Crit up, Debuff Success up. Damage cap up. Dark chaser.
Miscellaneous
A number of characters will be gaining weapon specialties.
Anne: Gains Staff
Anthuria (all versions): Gains Harp
Vira (grand Light): Gains Spear
Gawain: Gains Spear
Societte (fire, water): Gains Harp
Magisa (fire): Gains Melee
Melissabelle (wind): Gains Axe
Yuel (all versions): Gains Harp, loses Sword (Katana specialty remains untouched)