Web Newtype has published an interview with Touyama Nao (Lyria), recorded after she took home Best Supporting Actress and the newly created Game award at the Seiyuu Awards. The awards ceremony was why she was 2 hours late to the 5th Anniversary broadcast, in case you were wondering. The full translated text of the interview follows: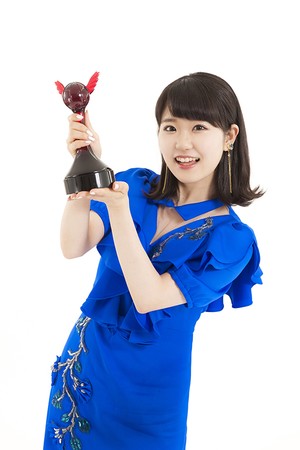 Newtype: It's been quite a while since your debut, hasn't it, Touyama-san?

Touyama Nao (Touyama): I'm about to start my tenth year in the business, but it feels like it's gone by so quickly, and I haven't done that much…. Because everything still feels so fresh to me, I feel like a greenhorn compared to the other ten-year vets near me (laughs). To this day, I still feel excited when I see ads for the voice school I went to, or see the training materials we used. They brings me back to a time when I didn't know what path I could take to follow my dream, or when I had just joined an agency and didn't know the rules of being a pro yet.

Touyama: Even now, when I tell my parents I'm heading out, I feel amazed that I'm going to a studio and not to school, and that feeling brings me back down to earth a little. I didn't expect to be able to support myself by voice acting. I went to college and acted at the same time, and if my career hadn't been on the right track by the time I needed to look for work, I probably would have found another job. But right at the crossroads came roles like Kin-iro Mosaic (Karen), The Devil is a Part-Timer (Chiho), and later My Teen Romantic Comedy SNAFU (Yui). There were a lot of roles that made me a known name, so I didn't have to change my career. I'm thankful that the same luck has kept up this long.

Newtype: In 2018 you had very prominent roles as Shima Rin in Laid-Back Camp, Kasaki Nozomi in Liz and the Blue Bird, and Koga Tomoe in Rascal Does Not Dream of Bunny Girl Senpai, among others.

Touyama: I was really surprised that Laid-Back Camp got so popular. I thought it would be a quietly fun show, or maybe a sleeper hit, but it really caught fire that season. My character, Rin, is a solo camper, so there were a lot of times when I stood in front of the mics alone. During recording I kept thinking to myself "What will this look like when it's finished?" Once it was done, though, I thought it was really fun. It's a relaxing show to watch, but on the production side it wasn't laid-back at all, it was a high quality production.

Touyama: Liz and the Blue Bird is a work that I'm so glad to have been a part of. It's really hard to describe it, so all I can say is "please watch it". The recording itself was smooth, but there were so many emotions invested in that movie, I made over 20 appearances to introduce that movie to audiences and I could still never find the right words to say. I could talk about it forever and never run out of things to say, but I kind of don't want to say them to anyone and keep them to myself, it's so personal (laughs). That's how special that work is to me.

Touyama: Rascal was another work that was very moving for being just a 1-season show. Tomoe was a character who really divided the fanbase, but I only ever saw her as a good girl. She probably made a lot of waves when her first appearance involved Sakuta and Tomoe kicking each other in the butt, but I think she did it because she's a straightforward and honest person. It's just how she operates.

Touyama: Looking back at 2018, it was very Blue year, wasn't it? Rin-chan's hair is blue, Liz and the Blue Bird, and the Sei (青, "blue") in Seishun Buta. And don't forget Granblue Fantasy. People used to say that I had a very pink voice, though.

Newtype: You brought up Granblue Fantasy, and you won the new Game award category in the Seiyuu Awards, too.

Touyama: It's a great honor. Talking about game work in general, it's a lot different from how anime is recorded. With anime, you spend a lot of time talking to the other actors, but with games, you record solo. So in that recording booth, you spend hours in a world where it's just you and your character. It's exhausting, but since I always want to do everything, whenever I feel like I didn't have many lines in a recording session, I feel kind of disappointed (laughs). It's different when recording for games or songs. It's always my turn, and that makes it fun. Of course, I really do enjoy acting with other people in the room! It's fun, but as an actor, my own performances are still the most enjoyable to me. That's what makes game recording tough, but fun.

Newtype: Games have a bigger impact on people's lives than most anime do, too, and there are some games which have years of content.

Touyama Nao (Touyama): From the first time I recorded lines for Granblue Fantasy, the staff told me "This game will become your most notable role, Touyama-san" and that made me so excited. I think Lyria really has become my most notable role. GBF has had a big impact on my life, not only as an actress, but as a skyfarer (GBF player). But everything that starts must end one day, and some day, GBF's story will come to an end too. That very thought makes me feel so sad and lonely that I don't want to think about it. GBF is a work that I treasure very dearly.