The Summer Live Stream and August KoreGra are now in the books for 2019, so it's time to review all the news and announcements, from summer characters to the new RPG mode in Granblue Fantasy Versus!
New swimsuit characters!
The final(?) swimsuit characters for 2019 were revealed: Swimsuit Alexiel, Yukata Leona, Yukata Cassius (who was revealed as SR), and Swimsuit Rose Queen summon.
August side stories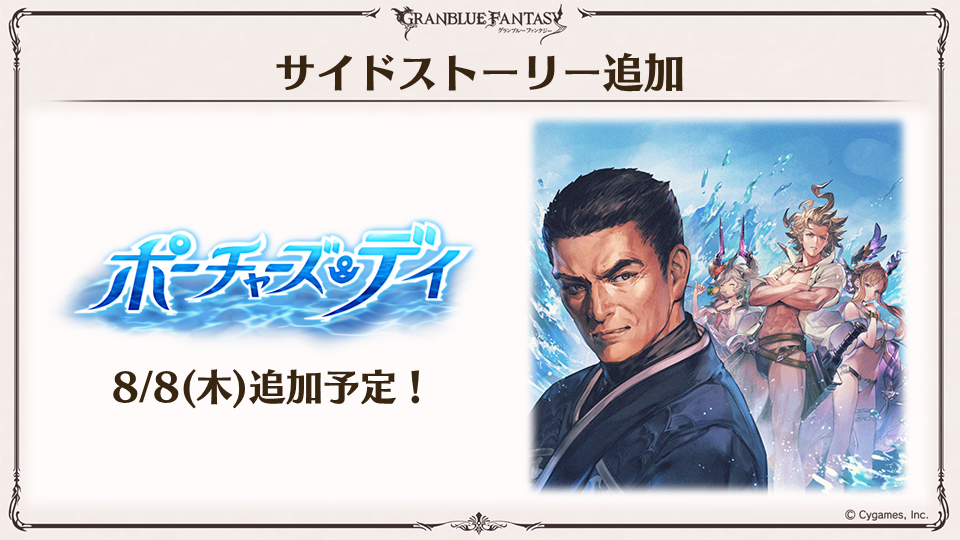 Poacher's Day went live on August 8th.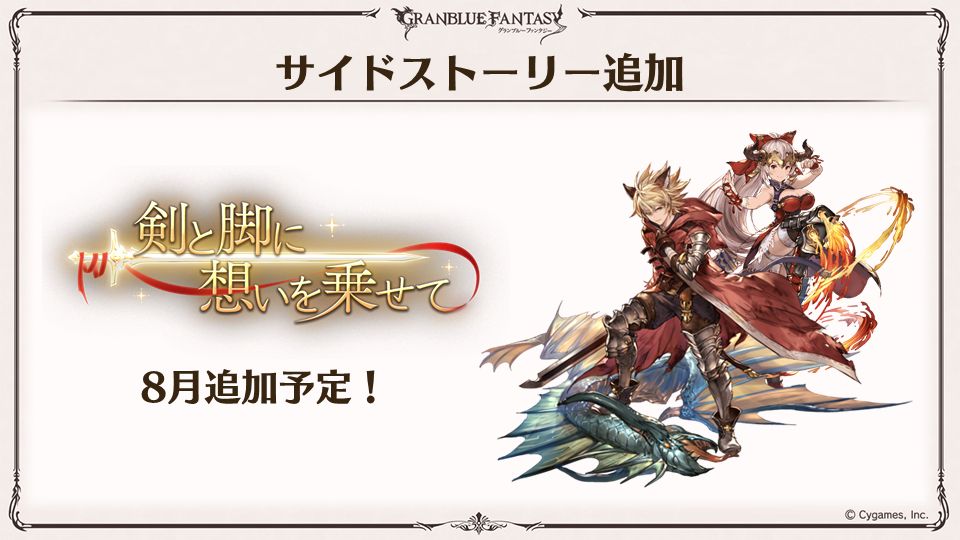 Boots & Blades does not have a release date yet.
New main story chapters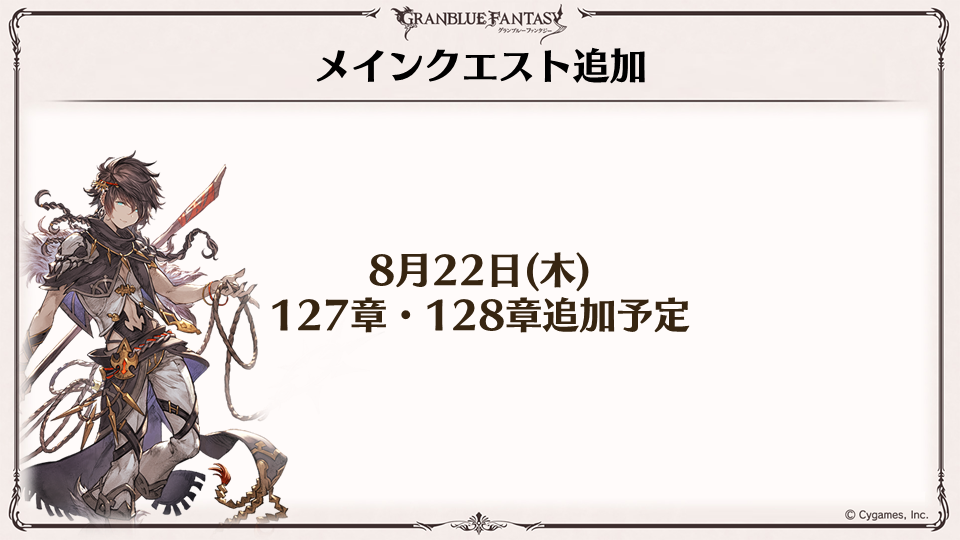 Chapters 127 and 128 of the main story will release on August 22nd.
Xeno Corow 3rd rerun and gun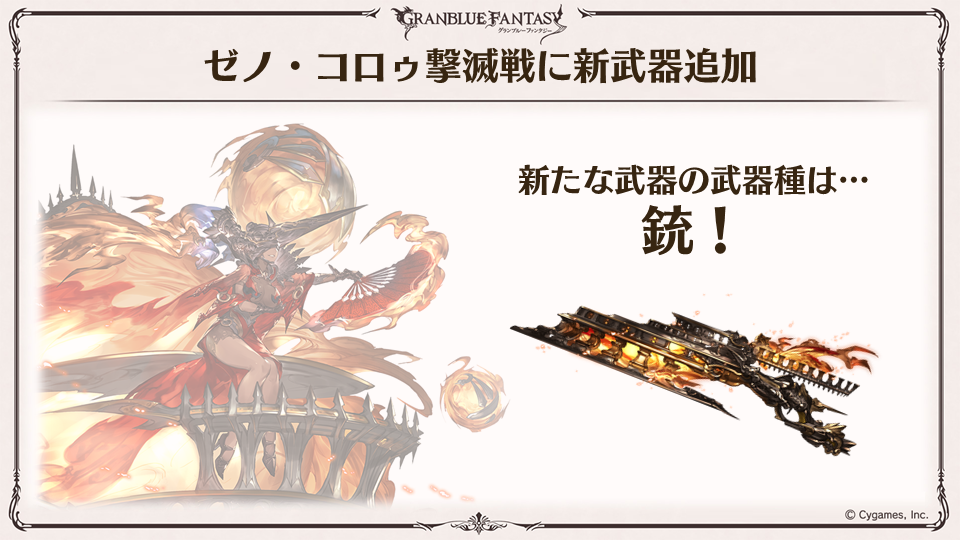 Xeno Corow also starts on August 22nd, and as this is its third run, it will have a new gun available in the shop and as a drop.
September rerun of Together in Song
On September 12th, there will be a rerun of Together in Song. The rerun will come with 4* uncaps for the Nobiyo and Narita summons based on composers Uematsu Nobuo and Narita Tsutomu.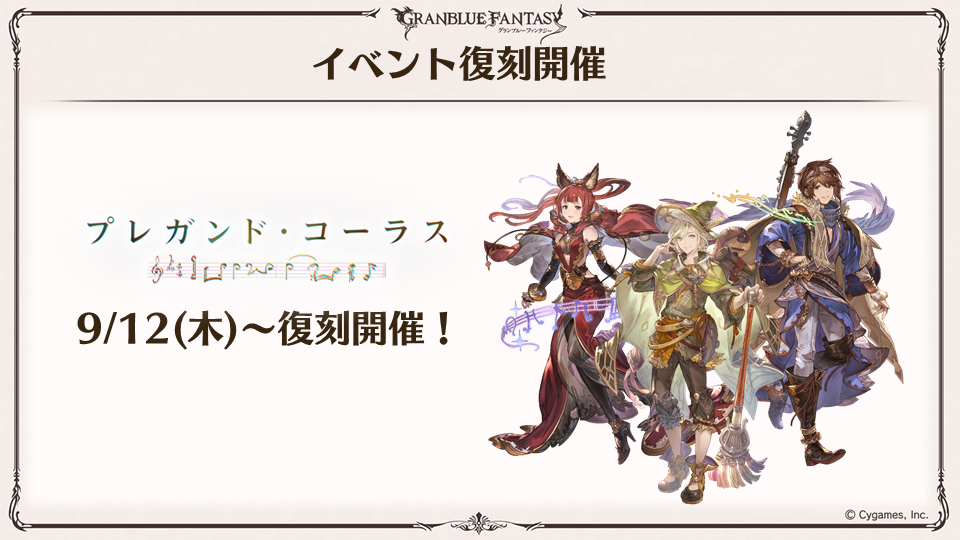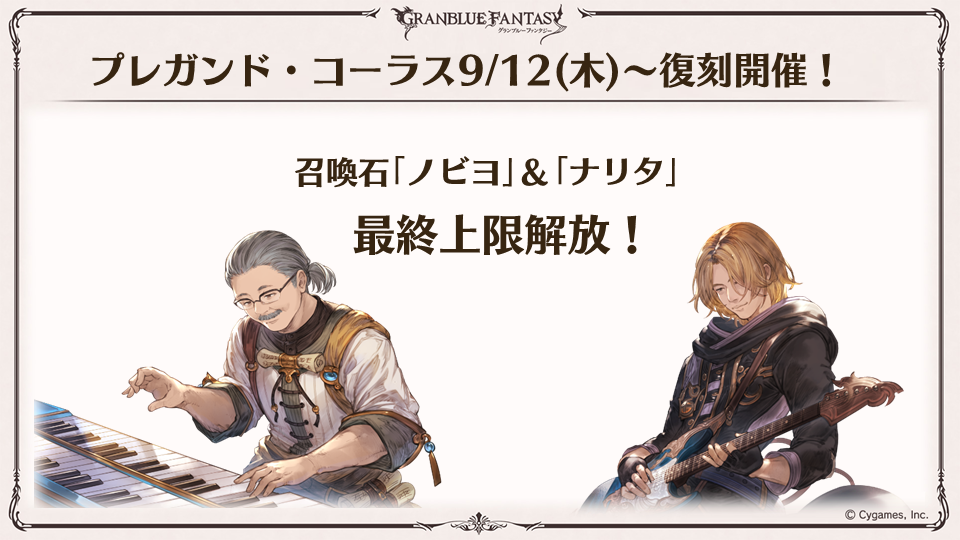 The long-awaited traveling skin for Niyon will go on sale at the same time.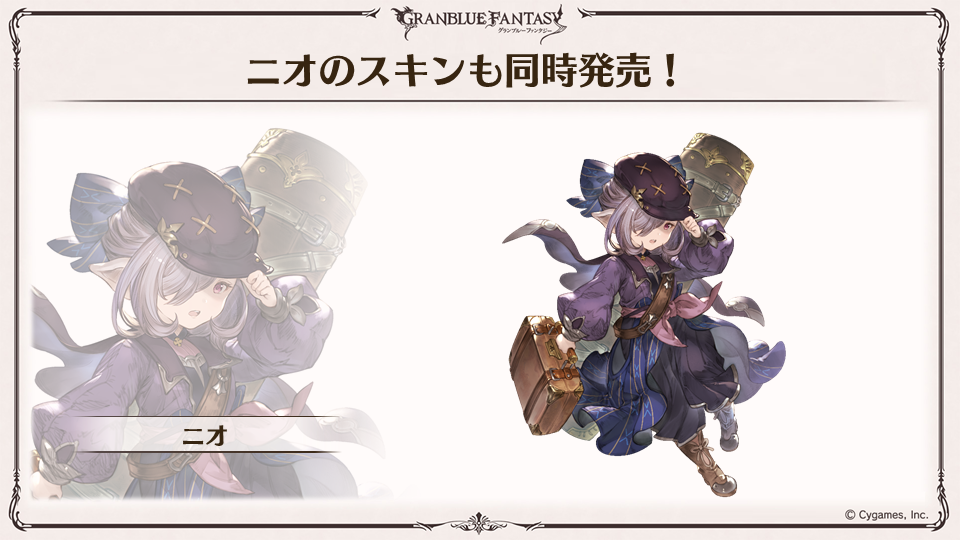 Grand character uncaps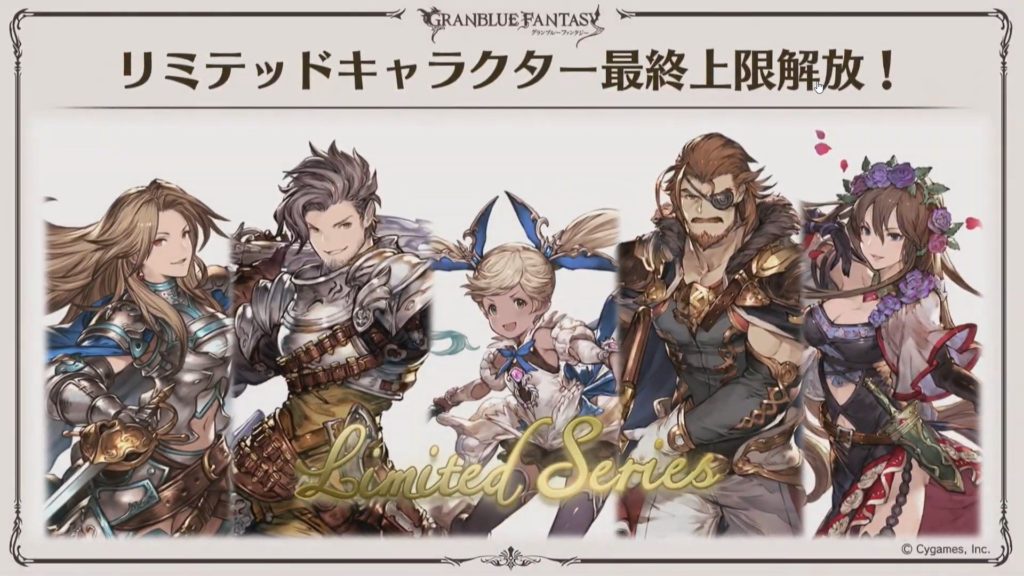 There will be no character uncap for August. However, the Grand series of characters (Katalina, Rackam, Io, Eugen, and Rosetta) will be receiving 5* uncaps in the near future. Katalina and Rackam will be first, with their uncaps coming some time in September. Katalina's uncap art was shown, but Rackam's was not.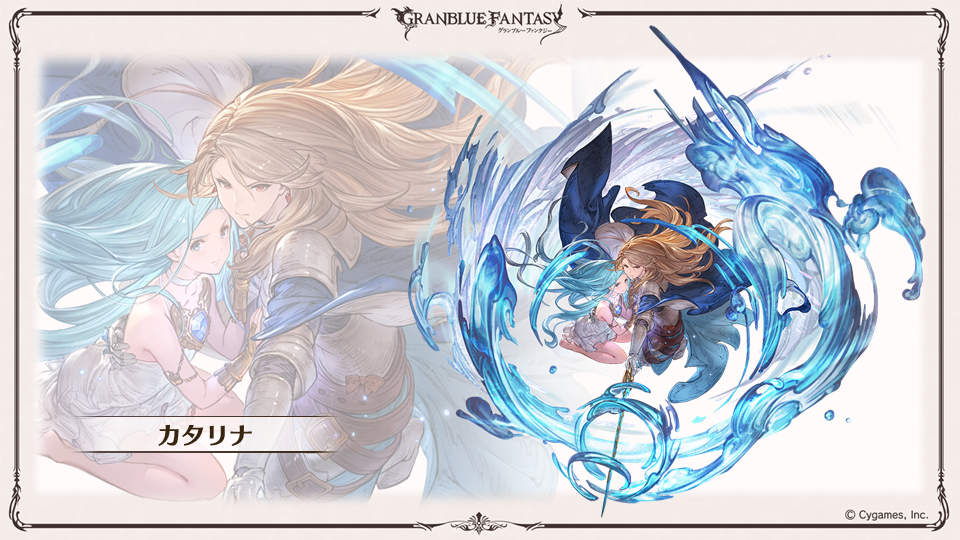 New Omega difficulty: Extreme+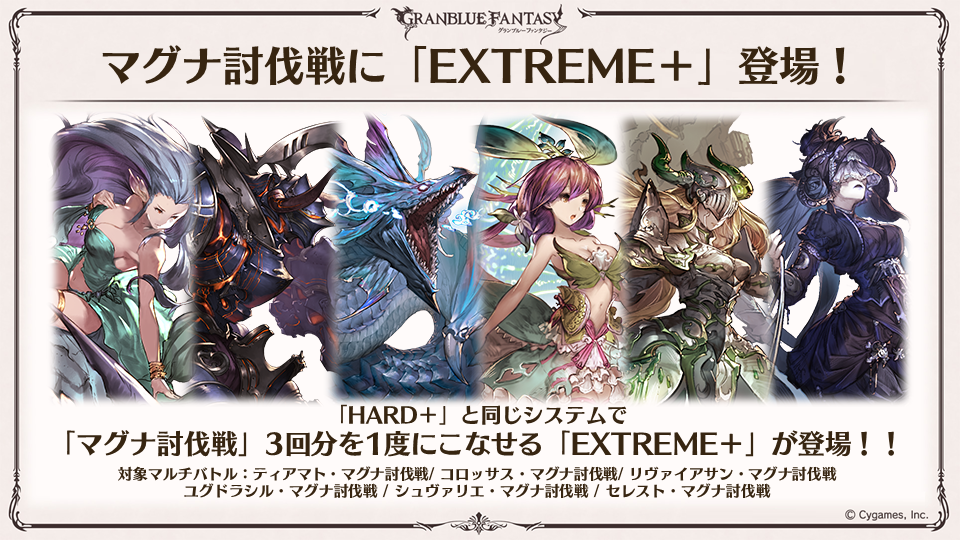 In order to make players' lives and daily tasks easier, the Extreme+ difficulty for Tiamat Omega, Colossus Omega, Leviathan Omega, Yggdrasil Omega, Luminiera Omega, and Celeste Omega will be 3 fight's worth of drops and XP for the cost of a single raid. No date has been announced for this update.
Arcarum updates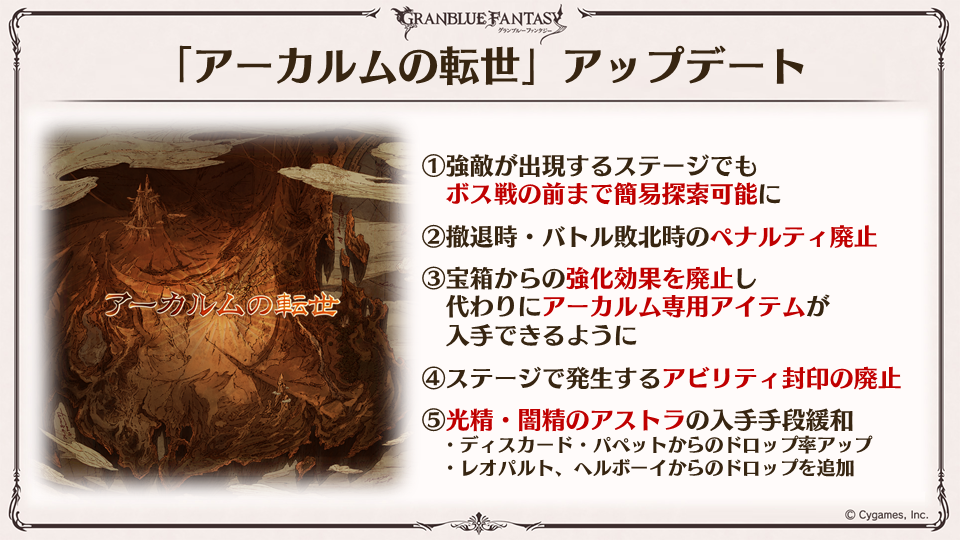 The Arcarum updates announced on the stream will go live on August 22nd.
1. You will be able to use Fast Expedition on stages 3, 6, and 9, which will skip you straight to the Discarded Puppet or appropriate boss.
2. The 10-turn penalty for retreating or losing a battle will be removed.
3. Chests will no longer dispense useless buffs, and Arcarum-specific items will be added to their loot list.
4. Stages will no longer have lock out Skills.
5. Light and dark astras will drop more frequently from Discarded Puppets, while some regular encounters will also drop the astra – Cantankerous Leopard and the Hellboy(?).
4 star uncap for Optimus summons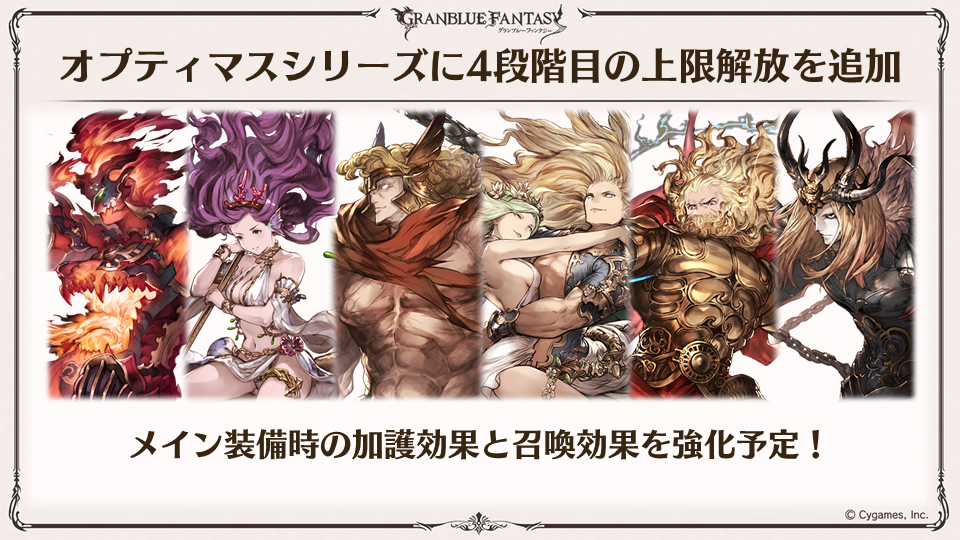 On August 27th, the Optimus and Demi Optimus series (Agni, Demi Agni, etc) will receive 4 star uncaps.
New EX2 classes incoming!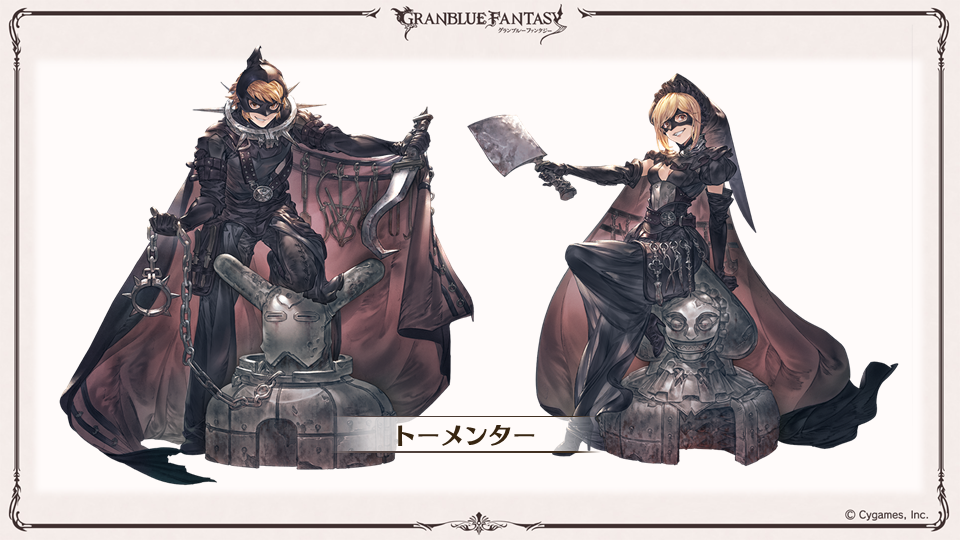 The EX2 version of Assassin is currently named Tormentor (English name pending the official localization). No release date was given. Rising Force was named during the summer live stream, and KoreGra confirmed that it will be an EX2. The only EX1 classes without a second class yet are Drum Master, Dancer, and Mechanic. Speculate away!
Prometheus series of raids updated
Announced on the August 3rd stream and live on August 6th, the Prometheus, Ca Ong, Gilgamesh, Morrigna, Hector, and Anubis raids were updated and new weapons were added.
Full changes list:
1. Player limited lifted from 6 to 18
2. Ca Ong, Gilgamesh, Morrigna, Hector, and Anubis' triggers changed so that only one player will see them, rather than up to 18 triggers occurring
3. Significant Ca Ong and Gilgamesh trigger reworks
4. Significant drop changes (see below)
5. All Epic weapons that drop from these fights can be 4* uncapped.
The new weapons: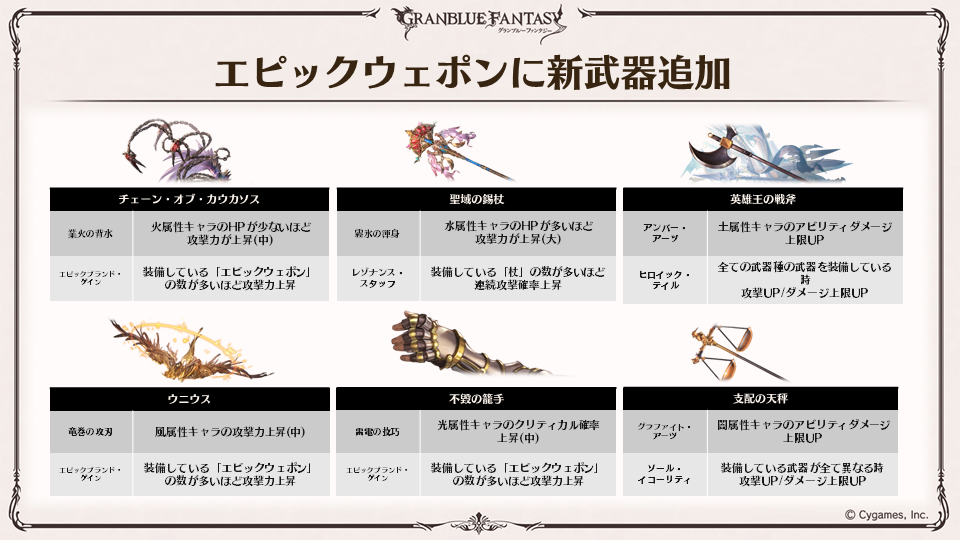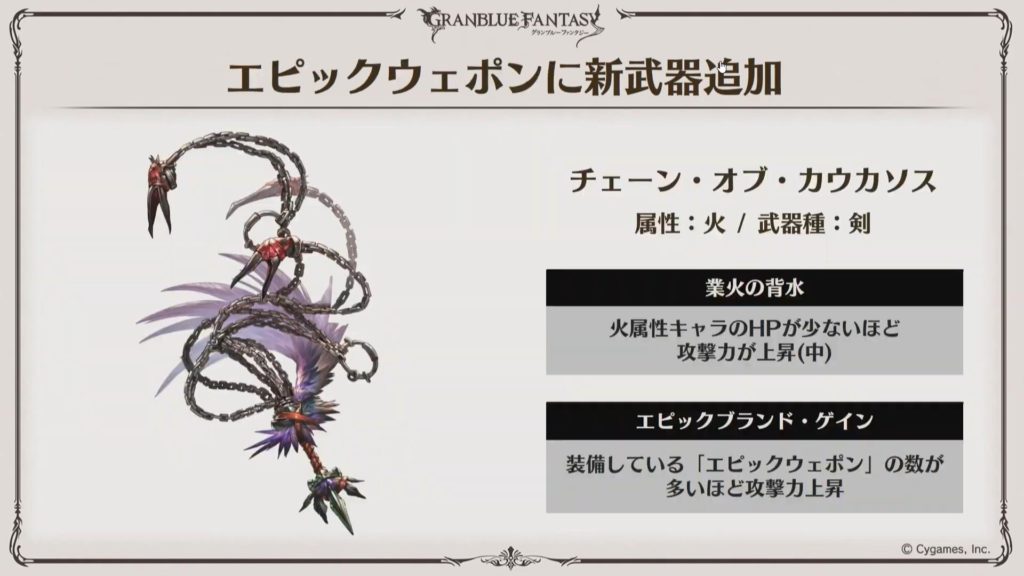 Prometheus' new weapon: Chains of Caucasus.
Fire Enmity (Medium), and at level 120 a skill that boosts ATK based on how many Epic weapons are equipped.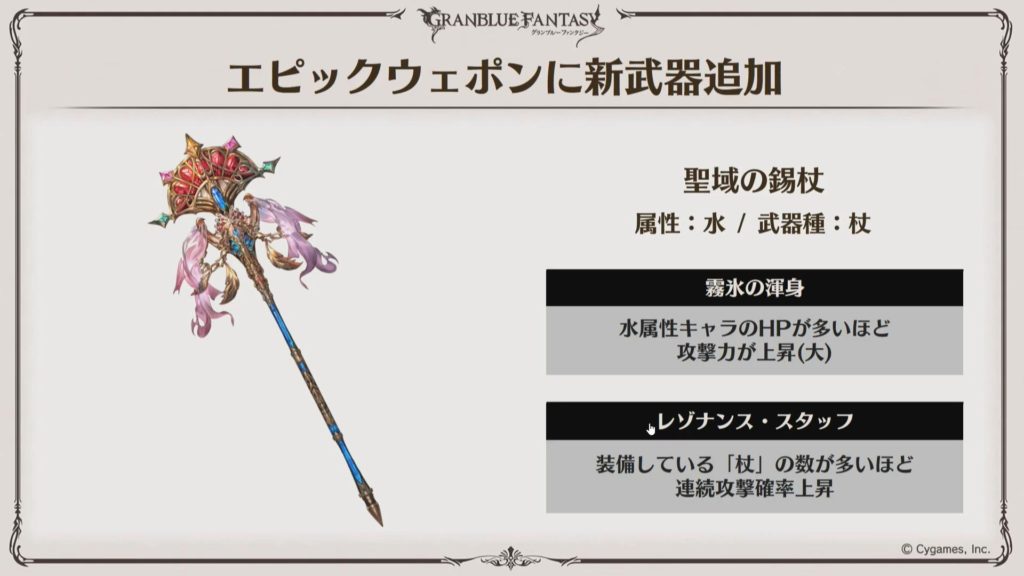 Ca Ong's new weapon: Savior of Hallowed Ground.
Water Stamina (Large), and at level 120 a skill that boosts multiattack based on number of staves equipped in grid.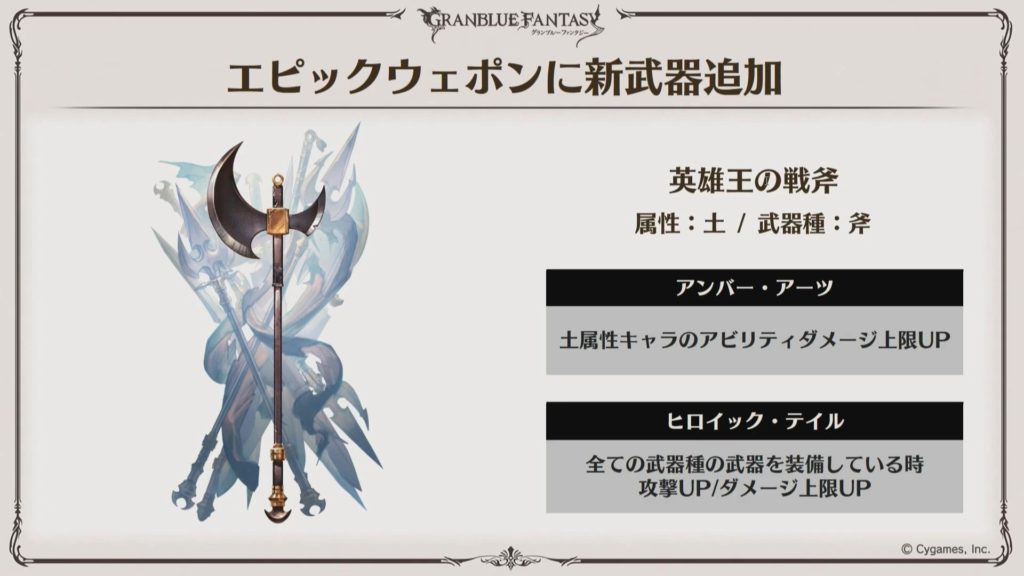 Gilgamesh's new weapon: All-Might Battle-Axe.
Earth allies' skill cap up, and at level 120 a skill that boosts ATK and damage cap when all 10 weapon types are equipped in grid.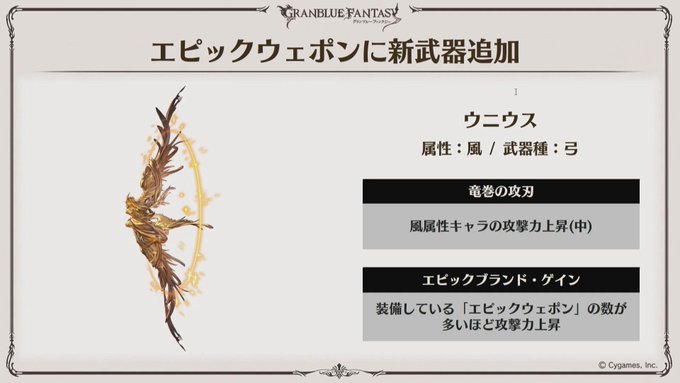 Morrigna's new weapon: Unius.
Wind attack up (Medium), and at level 120 a skill that boosts ATK based on how many Epic weapons are equipped in grid.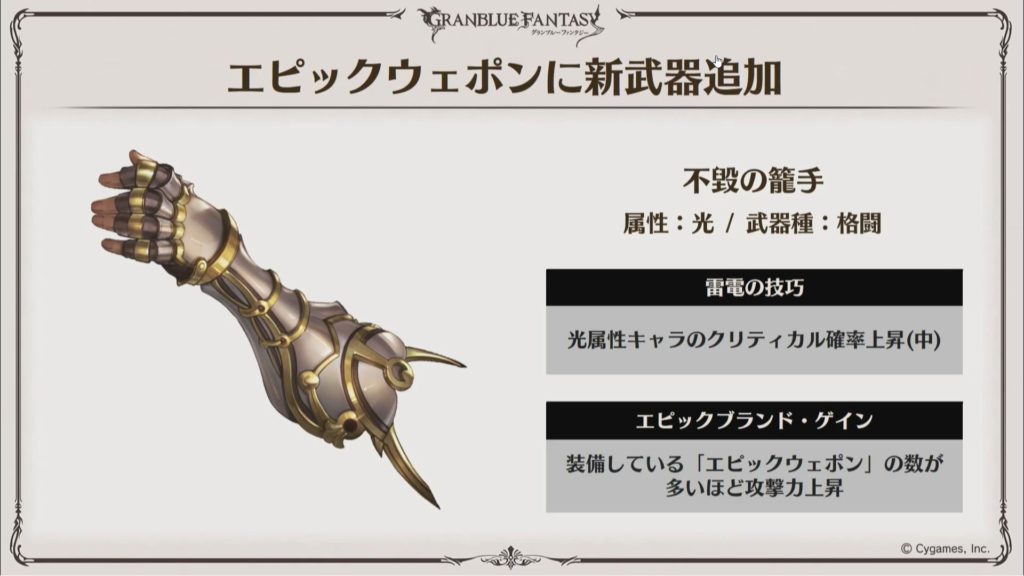 Hector's new weapon: Adamantine Gauntlet.
Light crit (Medium), and at level 120 a skill that boosts ATK based on number of Epic weapons equipped.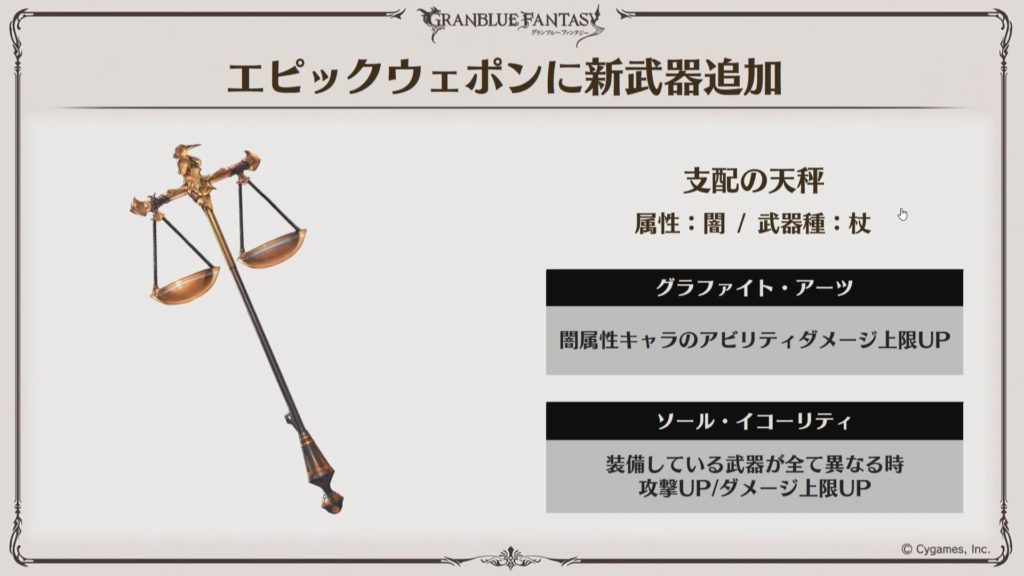 Anubis' new weapon: Scales of Dominion.
Dark character skill cap up, and at level 120 a skill that raises ATK and damage cap if all weapons in your grid are different.
5 new chat stamps
Love Live! Door to the Skies
Love Live! Door to the Skies, the collab event with the original Love Live! School Idol Project, starts on August 12th. Here is the art for all 9 μ's members in their Granblue Fantasy forms.
New MC colors and skins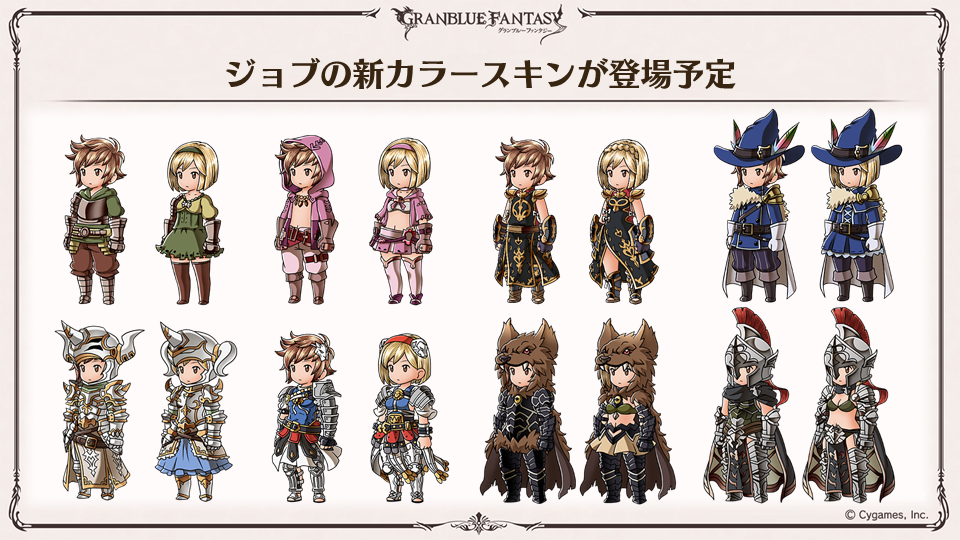 The stream announced two new ways to customize your Gran or Djeeta. One is new colors. No date has been announced.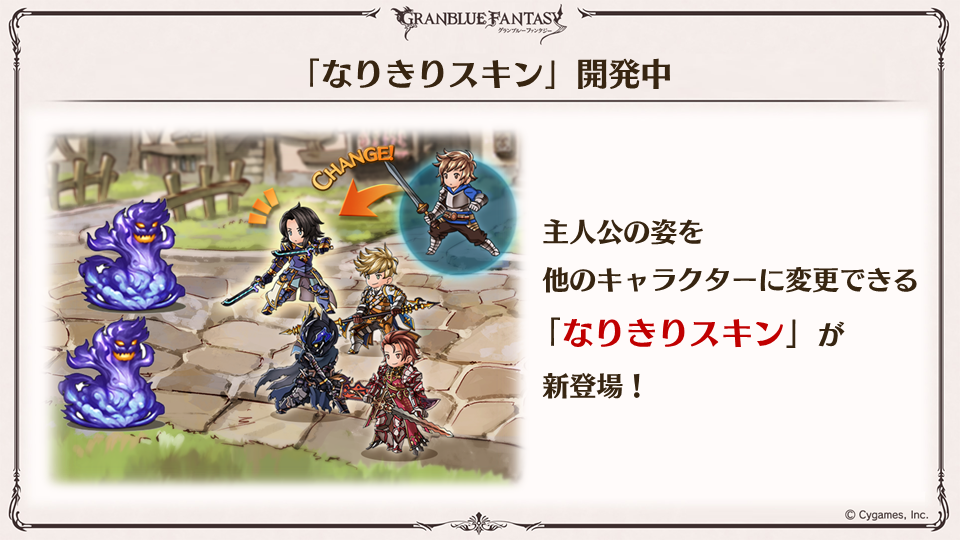 The other is the "Narikiri" skin, which lets you reskin Gran or Djeeta as another character completely, which will change voices and animations. Doing so will let you play with character combinations who talk to each other but don't belong in the same party – the stream example was using turning Gran (CV: Ono Yuuki) into Lancelot (CV: Ono Yuuki) to complete a Dragon Knights team. As a more practical example, a fire team could use Siegfried as an MC skin, Lancelot and Vane, and Percival to have a full fire team with all 4 Dragon Knights present. Again, no date was announced.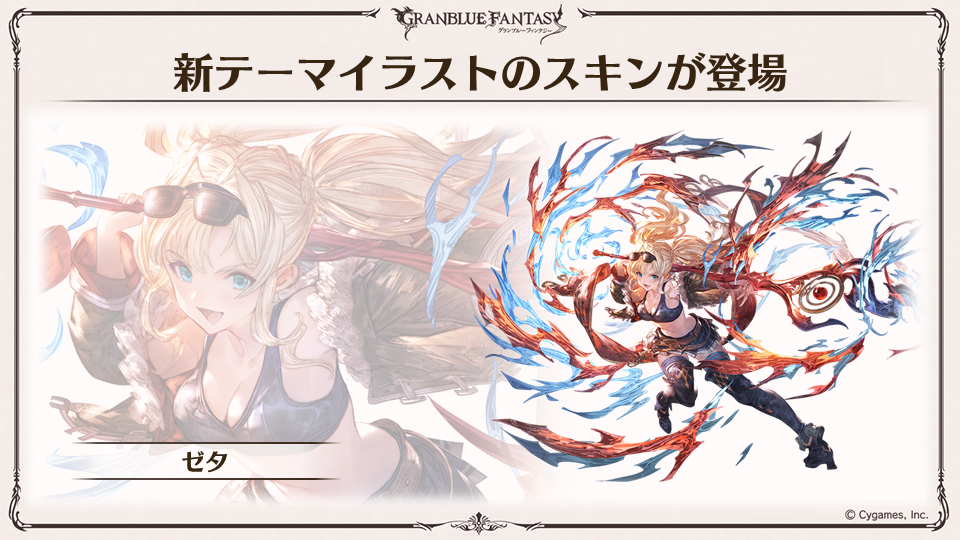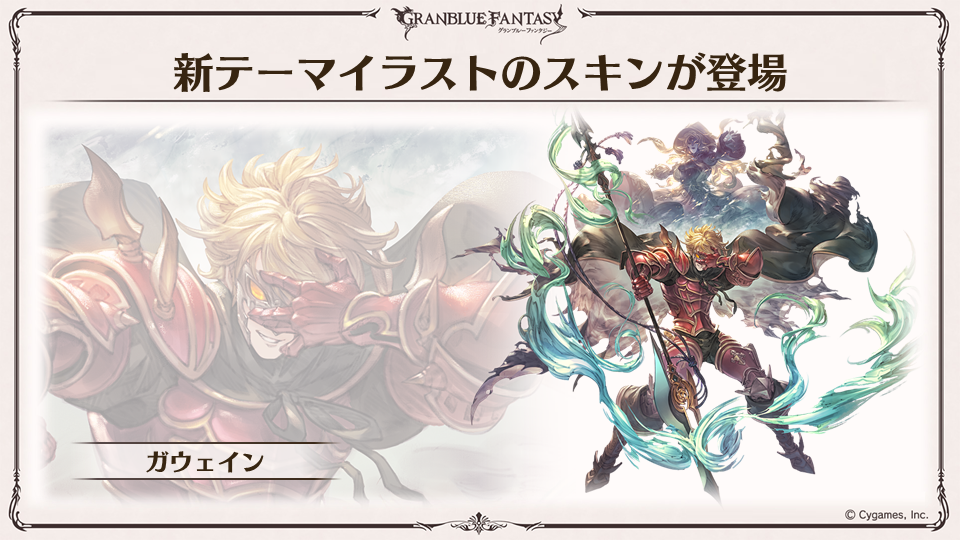 New skins for Zeta and Gawain were teased, featuring Zeta with her dark spear and dark costume and Gawain shadowed by his sister. Details were sparse – they won't be free, but they won't be difficult gacha pulls, either.
Six Dragons teased for 6th anniversary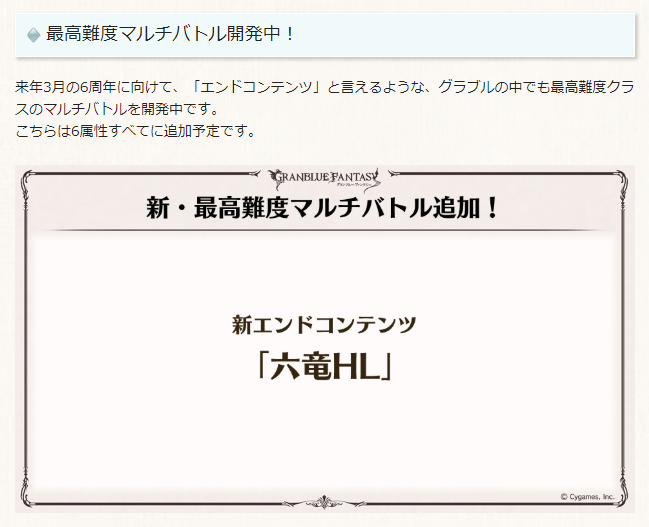 A new series of endgame raids are in the works for the 6th anniversary, the Six Dragons. As opposed to the current Dark Rapture "puzzle fight", these are planned to be tests of strength.
Happy New Genesis single, with birbs
The Ti Icniuhtli Xolotl character single comes out on August 28th, and will come with a skin for Gran/Djeeta and for Diantha. Both of the skins are Okinawa Rail birds.
You can preview and pre-order the single on the official Granblue Fantasy character song page, but be warned that the default volume is loud.
Skyleap browser released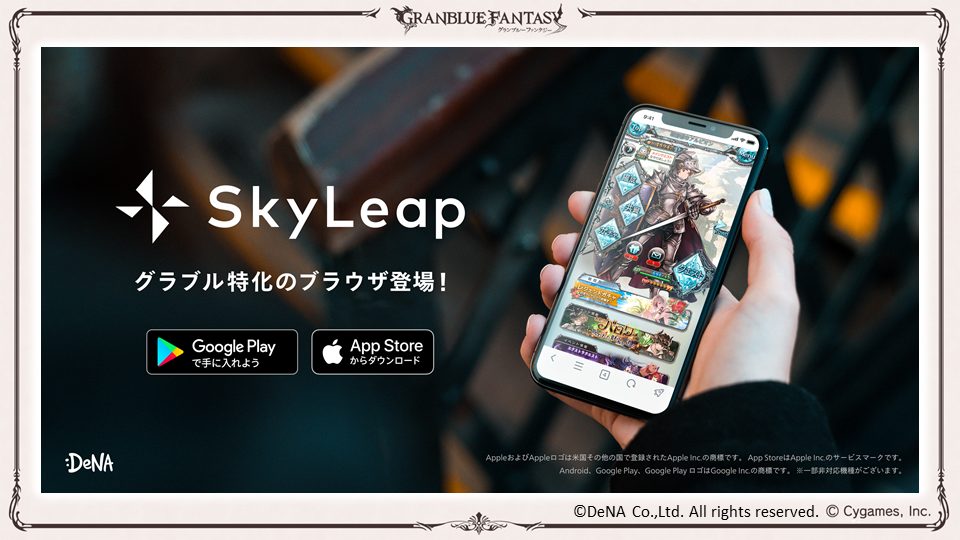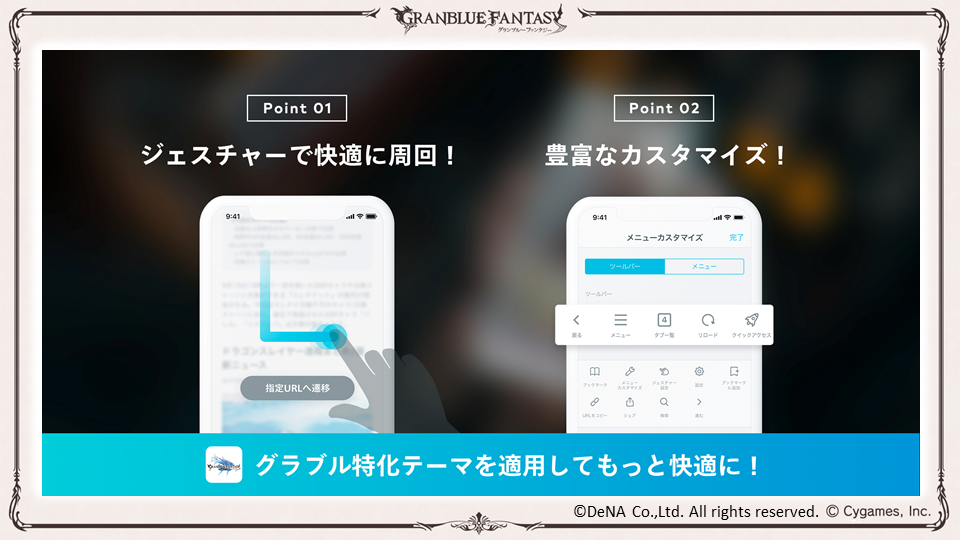 Skyleap is a custom browser that has gesture settings programmed specifically for Granblue Fantasy. It is available on the Japanese iTunes App Store and Japanese Google Play store now.
Granblue Fantasy the Animation season 2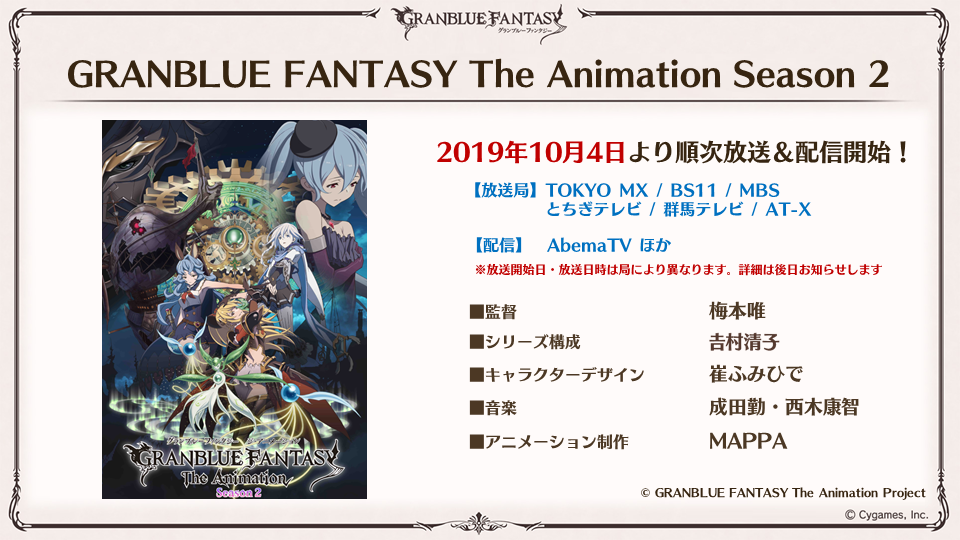 The key visual for Granblue Fantasy the Animation Season 2 and a trailer are now available. The show starts airing on October 4th, and MAPPA takes over animation duties after the first season was animated by A-1. With Ferry, Vira, Noa, and Orchid in the picture, it's safe to say that this will be a direct sequel to the first season, covering the events on the Mist-Shrouded Isle and Albion.
Granblue Fantasy Versus information
A ton of Granblue Fantasy Versus information was dropped on the stream: Preorders went live on August 5th, and the release date is February 6, 2020.
Five different price points were announced for purchase.
1. Physical standard edition, 6980 yen including the game and a product code.
2. Physical premium edition, including the first DLC season pass, a color pack, deluxe packaging, an artbook, and a soundtrack.
3. Digital download edition, 6282 yen with a DLC code.
4. Digital edition plus season pass, 8874 yen for the DLC code, season pass, and color pack.
5. Digital deluxe edition, 10674 yen including the DLC code, season pass, color pack, digital artbook, and digital soundtrack.
The physical product code and base DLC are the same thing: a code that allows you to pick from a gold brick, a sunlight stone, an Evolite, or 10 Damascus crystals. We have reached out to XSEED for comment on whether these codes will be packed with the English release, but have not received comment on what the English editions will come with.
RPG Mode was introduced as well, a local and online single player/coop mode that lets you play Granblue Fantasy Versus as a side scrolling action RPG.
The timeline
So, here's what to expect over the next month or two:
8/12: Love Live! Door to the Sky
August Flash Gala (presumed): Swimsuit Alexiel, yukata Leona, swimsuit Rose Queen
8/22: Arcarum updates, new main story chapters, Xeno Corow gun
8/27: Optimus Series and Demi Optimus series uncaps
8/28: Happy New Genesis single releases with two new skins
August (no date): Boots & Blades added to Side Stories
9/12: Together in Song rerun, with Niyon skin
September (no date): Grand Katalina and Grand Rackam 5* uncaps
10/4: Granblue Fantasy the Animation Season 2
2/6/2020: Granblue Fantasy Versus
3/10/2020 (presumed): Six Dragons Impossible raids
Unknown release dates: Extreme+, Narikiri skins, Tormentor, Rising Force,