Part 2 of the Letter from the Director covers GBVS and Relink, including notes about the road ahead for each game. Read Part 1 for all of the information about the GBF browser RPG.
On Granblue Fantasy Versus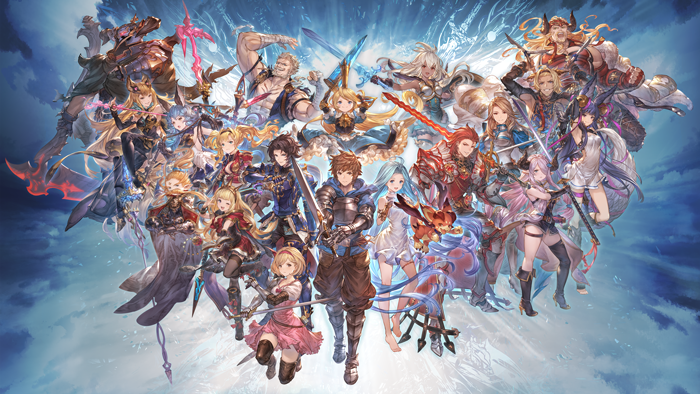 As the first console title in the Granblue franchise, GBVS also set records for the highest action-fighting game on the PlayStation 4. All of the support we got is directly connected to our continuing support for the game, so thanks to everyone who picked this game up.
Many console games are mastered, beaten, and left behind about 2 weeks after their release, but thanks to the versus portion of the game, I still see many streams and other content being made for the game, and that makes me very happy.
The 9th DLC character will be released at the end of this month, Anre of the Eternals. He may be a small Harvin in stature, but we made him with all of the flair and effects that will make him worthy of his Eternal status. He has a large arsenal of defensive abilities, so he may be a character meant more for veterans and experts, but if you use his whole arsenal properly, he should show you some of his unmatched power. We are currently planning to release his trailer on Friday, January 22nd (JST).
Some of GBVS' cast will receive balance adjustments alongside Anre's release. These changes will mostly be buffs, but compared to other patches we aimed to have a smaller impact on the balance of the game. (We had to submit version 2.30 only a few days after the release of Yuel, so this update hasn't had much time to take in and process all of the feedback from Yuel's release). Going forward, we plan on rebalancing a few characters every few DLC releases.
In the beginning of February, we will release Battle Pass Part 2. It will include new sound effects, weapon skins, and more – we hope you like it. At the end of February, we will add chapters 46-50 to RPG Mode. The boss music for chapter 50 is a new track, and it's some of Narita's finest work. You should definitely check it out.
It's a vocal track, and I think that the lyrics ended up being fun as well.
As for the 5th character of season 2, we plan on unveiling them in March during the 7th anniversary stream. We hope you're excited for this announcement, too.
GBVS will celebrate the first anniversary of its launch on February 6th, and the base GBF game celebrates its 7th anniversary the month afterward, so it feels like starting in 2021, February and March will both be full of exciting milestones…
If you enjoy either of these titles, that will make us very happy.
On Granblue Fantasy Relink
We announced a 2022 release date, and I apologize that we've made you wait so long since our first announcement of the game. We covered all of the information about the current state of the game's development that we could during last year's Granblue Fantasy Fes 2020 stream, so for more details, check out the archive on YouTube.
We're going to focus our full efforts on development in 2021, so please be patient while waiting for more information – expect no new information until the year is over. Once the calendar rolls over to 2022, we plan to start releasing more information and promotional materials as the leadup to release.
(FKHR links to the Relink development jobs page here)
With the game's release coming next year, we've hit the peak of the development cycle, and we're hiring the final pieces of our development team. The site above has a message from me, and if you're interested, please read and look for a position that fits you. We're looking for more positions than just the ones posted, so if you're confident in your skills, contact us!
We published a couple of staff interviews in Cygames Magazine last year about our the visual techniques we use. The first article is heavy on the videos, and I think that the second half has very interesting content, so if you haven't read them yet, please check them out.
Relink graphics staff interview, part 1
Relink graphics staff interview, part 2
That's all I have for today. I hope you enjoy the entire Granblue Fantasy franchise this year.
Granblue Fantasy creative director
Fukuhara Tetsuya